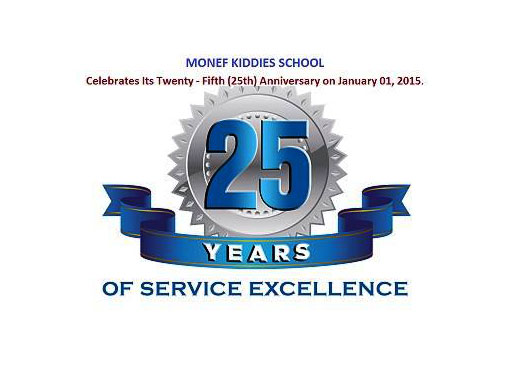 KIDDIES SCHOOL @ 25
HIGH SCHOOL @ 8
The management, staff and student/Pupils of Monef School on Friday 6th February, 2016 rolled out the drums to celebrate the silver jubilee of Monef Kiddies school and 8th school anniversary of Monef High School.
The Occasion, which began with a Holy mass, was held at the   Monef High School Grounds. the event was attended by the creme de la creme in the society. It featured various kinds of dances and cultural displays including Ekpo masquerade.
High point of the event was the cutting of the anniversary cake by the Director of the Schools, Dr. Fabian Essiet flanked by the proprietress of the Schools, Mrs. Nseabsi Essiet, the Deputy Director, Mr. Charles Egbono; the P.T.A Chairman (Kiddies), Dr Nsikan Senam and the management staff of both Schools.
The Proprietress of the School, who is also the wife of the Director, Mrs Nseabasi Essiet expressed gratitude to God for the success of the event and thanked all those who grace the anniversary celebration.
In his remarks, the Director of the Schools, Dr Fabian Essiet thanked God for his blessing in the new year. He thanked the management and staff of both schools for their dedication and commended the proprietress of the school for her financial support to the schools.
                  Long Live Monef Schools!
                  Long Live Akwa Ibom State!!
                  Long Live the Federal Republic of Nigeria!!!