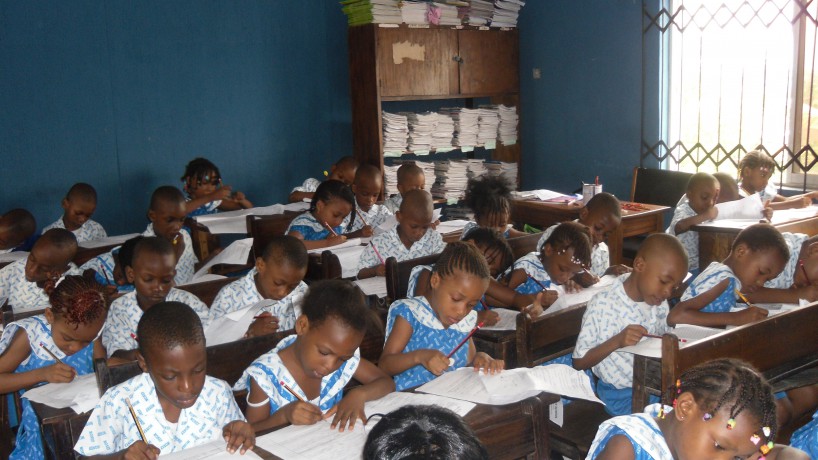 The school MONEF KIDDIES is a peculiar school with her peculiar structure, location, teaching learning processes and ways of doing things. Every school aims at educating the children registered with them but the outcome i.e. the result varies. Here we realize a hundred percent of what we put in, this we can always boldly and confidently confirm.
The last school year stretched from 2014 into 2015 which was our JUBILEE YEAR. A journey of twenty five successful years celebrated in a grand style. This celebration lasted from January to December with various outstanding events.
The main celebration was held in January but other sub celebrations lasted throughout the year. It was a celebration to thank the Almighty God for his love and mercies upon every member of the MONEF family, the achievements so far made and the expected in the next many years.
Our school intake was highly increased. The academic work was at the peak and our outstanding performance in external examination was excellent. The joy of every parent knew no bounds for their children performed well such that could compete with other children anywhere.
The staff was not left out at the joy of this Twenty Five years celebration. The whole family became a be-hive of outstanding happiness and friendliness.
The new school year is on 2015/2016 session and we are now in the second term. It is a very short term as usual. So there is no time to stand and stir we pray everyone to cooperate with us that we may end well. Get close to your child, discover his /her problems if any, tackle or let us tackle it together for the best result. Remember if we identify the problem in time we will solve it before late.
It is our culture to fix a date for the parents to go into the children's classes to look at their work and have discussion with the teacher, make observations and suggestions for the well being of the child and the school. That is what we call Parents Teachers Interaction (PTI) we also have the Parents Teachers Association (PTA) which holds once a term. Here we brain storm on issues about the general development of the school, get some new information and make suggestions where necessary. Our doors are opened from Monday to Friday of every week for amiable discussions about the school. We advise that FEES be paid during the holidays of the previous term to avoid rush within the new term. Our school books and uniforms are sold in the school bookshop which opens from Monday to Friday of every week. Other information's required can also be obtained from the offices of the principal or the vice.
MONEF is an all round moulding citadel of learning. It is a place to be and a family to belong to, it's worth your struggling for. Come and let us transform your family into a happy home for you.